In the 20th Century, representation on the Internet became an essential part of any company's marketing plan. Unfortunately, in the 21st century, simply having a presence on the web is no longer enough. You need the power to conduct business with your clients through an interactive website that can generate new business, and earn new revenue for your company.
Let your website work for you instead of the other way around
A static website is like a phone book listing -- simply a passive source of information about your company. Wouldn't you rather offer your clients a resource that they can interact with day or night, giving them the ability to place their orders at an automated sales desk, or to prepare quotes on line? We can even create web-based applications unique to your company.
Whether you deal in services or products, we can provide you with a high-quality, cost effective presence on the web.
Our services include a full complement of Visual Studio programming, web services development, desktop publishing, custom graphic design, digital photography and more. We can develop a concept from the ground up or work with an existing web site. Whatever your needs, simple or complex, big or small, we can provide custom business solutions to enhance your company's presence on the Internet.
Depending on your requirements and the nature of your business, we can develop anything from a simple package solution to a full-scale web site for application service providers. Whether you need a streamlined business-to-business application, or a highly sophisticated data managementsite, we will create the perfect solution for your requirements.
How do we do it?
Phase 1. We start with One-on-one meetings with you and your team to determine what you have in mind, and to create a strategy to develop your project.
Phase 2. We present a project plan, including use-case scenarios for the users of your site, with an estimate of costs based on your system's features, layout, database structure and design requirements. This gives your company the chance to balance requirements against budget before work begins.
Phase 3.We implement the system in stages with material results that you can see and review.
Based on your feedback, we will create an effective and efficient site that will achieve your objectives and impress your clients.
Webclass programming and web site design
System analysis and concept development
Domain name searching and registration
Web hosting packages
Search engine registration
Custom programming
Data entry and conversion
Internet marketing
IT consulting and Internet research
Computer graphics
Company Logo design
Business Card design
Brochures and flyer design
Copy writing, technical writing and editing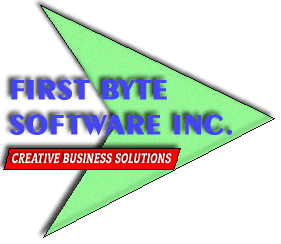 www.first-byte.net


lorne@first-byte.net
Telephone: 416-214-0573


Return to First Byte